"It is a wholesome way to add flavour to salads, veggies, and most foods. Apple Cider Vinegar has been highly regarded throughout history. The raw enzymes called 'The Mother' will leave you bragging about Bragg Organic Raw Apple Cider."
An entire roster of your favourite celebrities—including Jennifer Aniston and Victoria Beckham—have turned to apple cider vinegar to keep them healthy. 
"Now I'm doing apple cider vinegar in the morning," Aniston once told Bazaar in an interview while also talking about her love of vitamins. "I take a lot of vitamins, I'm not going to lie. It changes all the time because someone will say, 'Oh, my God, you don't take activated charcoal?' Then you go down a Googling hole to understand the benefits of that, or turmeric, or dandelion for water retention."
Victoria Beckham expressed her love for the product through Instagram, name dropping the brand she goes for, Bragg.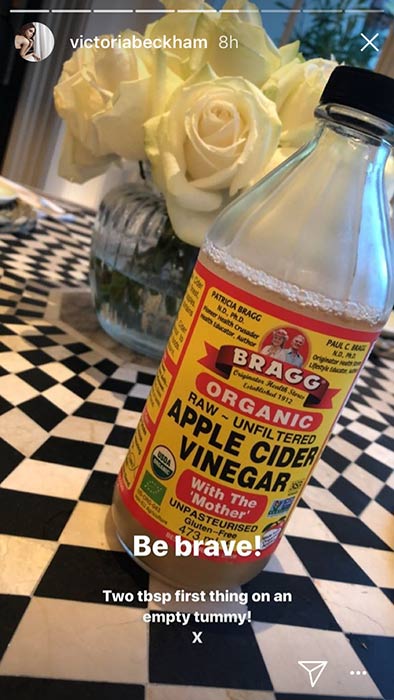 Drinking apple cider vinegar in the morning is a religious practice for health nuts everywhere as it has proven to have a plethora of health benefits (acid reflux, lower blood pressure, improve diabetes, aid weight loss to name a few). 
Aniston has also mentioned her dream to open a wellness center of her own, saying "I have a fantasy where you have this beautiful space with facialists, rotating workouts, meditation classes, and a café with recipes that are healthier versions of delicious foods so you're not deprived. I'm working on it in my brain. Not to sound all woo-woo, but if you go out into the world with inner peace, you're more joyful." When that opens, we'll be there. 
advertisement